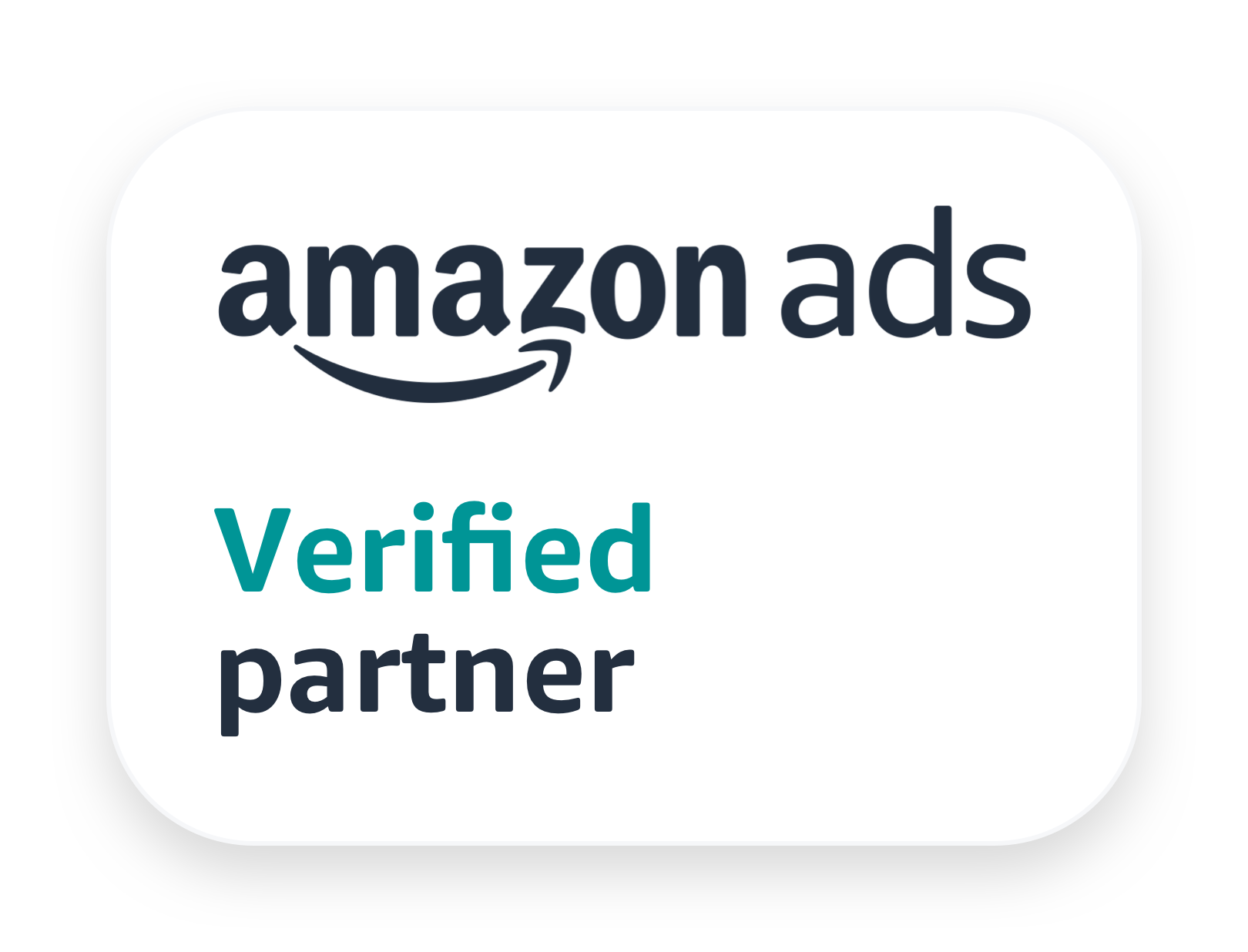 beBOLD

is Proud to be an

Verified

Amazon Advertising Partner

Amazon Sponsored Product, Sponsored Brands, Sponsored Display

Amazon DSP Advertising to reach new audiences

Sustainable Growth and Profitability are our top priorities for our Partners

The beBOLD PROCESS
Start your brand's GROWTH on Amazon with our expert approach and process as a Full-Service Amazon Agency
.
See our step by step process:
Your brand: where else you are selling, your competitors, each marketplace and the opportunity.
Collaborate and develop an omni-channel approach with SEO, image / A+, advertising plan to drive incremental sales while maintaining profitability
Let our team excuse the strategy we have proposed and we have both agreed on.
We have weekly calls to review the execution of plans which include reporting and analytics. We ensure you always have full transparency.
Our Amazon Full Service Account Management includes
:
Setup Seller or Vendor Account
We help setting up your Brand Registry, Amazon Seller Central or Vendor account a very simple process. Our beBOLD team understands the different protocols and have worked with Amazon for many years.
Product Listing Optimization and Management
We optimize your SEO, Product Images and A+ Content. Once approved by your we ensure your products are up to date with the latest information. We also manage inventory, pricing, fulfillment channels and promotions to increase sales velocity.
Search Engine Optimization (SEO)
Our team of Amazon SEO experts will help you create product descriptions and titles that are optimized for maximum visibility on the platform. We use keyword research, competitive analysis, and Amazon-specific tactics to make sure your products show up in search results.
Product Images, A+ Content and Brand Store Fronts
We design professional and eye-catching images for product detail pages, A+ content and storefront design can make all the difference when it comes to standing out among competitors. Our team of expert designers provide creative services that help your products look more attractive while being functional as well.
Product Launch & Promotional Strategies
We employ strategies to make sure your products get the attention they need through launch promotions, discounts and other specific campaigns. We also conduct keyword research to boost visibility of your newly-launched items on Amazon.
Amazon PPC Campaign Management
We offer Amazon Pay-Per-Click (PPC) campaigns designed to bring in more quality traffic to your product listings and boost sales on the platform. Our team will create and manage your campaigns from start to finish, as well as track and analyze performance metrics.
Customer Reviews & Seller Feedback Management
We understand how important customer reviews are in Amazon's marketplace. That is why our team takes care of this aspect as well, responding to customers' inquiries and reviews when needed, monitoring negative comments and dealing with other feedback along the way.
Amazon FBA Inventory Management
Our services are comprehensive enough to cover inventory management as part of your overall account management strategy. Our staff can help you with supply chain optimization so you don't have too much stock on hand or too little. We'll also make sure that your inventory is monitored and tracked so you don't lose out on sales opportunities due to stockouts.
Daily Account Sweeps for Account Health
Our team of experts will review your seller account regularly to ensure there are no product listing suppressions, account health issues or Amazon just being Amazon. Any issues regarding the performance and health of your Amazon account will be addressed immediately by our team and proactively prevent any unfavorable outcomes that may affect your business.
Amazon Seller Account FBA Reimbursement Recovery
We are knowledgeable and adept in the area of Amazon FBA reimbursements, providing services for both small and large sellers. Our team has the necessary experience to identify discrepancies between your invoices and their records, as well as guide you through any issues related to customer return credits or inventory adjustments in your seller central account. This includes FBA reimbursements recovery, damage and lost inventory refunds, and additional money Amazon may owe you.
Analytics & Reporting using beBOLD Analytics
We believe in full transparency in everything that we do. We provide you 24/7 access to our analytics platform beBOLD Analytics to track the performance of your products across different metrics, as well as generate reports and visualize the data. Our analytics will give you a better understanding of how well your Amazon business is doing and offer insights into what strategies are working.
Brand Registry & Protection
Registering your brand on Amazon is an extensive procedure requiring concentrated effort and ample time. In partnering with our account management team, expect that we'll manage each process diligently and take cake charge of submitting your documents. We'll safeguard your brand from malicious entities such as counterfeiters and unauthorized sellers.
FREE Brand Analysis
See How beBOLD Can Help Grow Your Amazon & Walmart Business
Full Service Agency - includes SEO, Image Creation, A+, Operations, Inventory, Brand Store and much more
Advertising / DSP - effective paid strategies with clear ROI
beBOLD focuses on Sustainable Growth and Profitability for Our Partners (clients)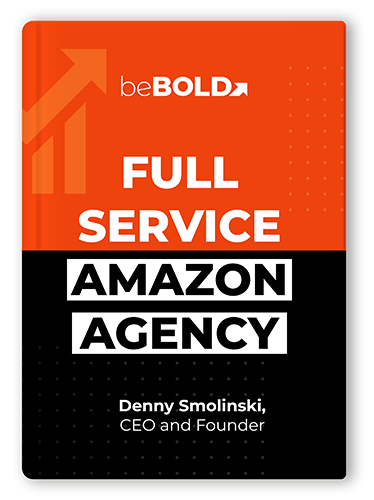 beBOLD

Amazon Full Service Agency

Case Studies:
Challenge accepted.
Explore our Amazon Agency Services.
Resource Center
Latest articles about to succeed and grow on Amazon & Walmart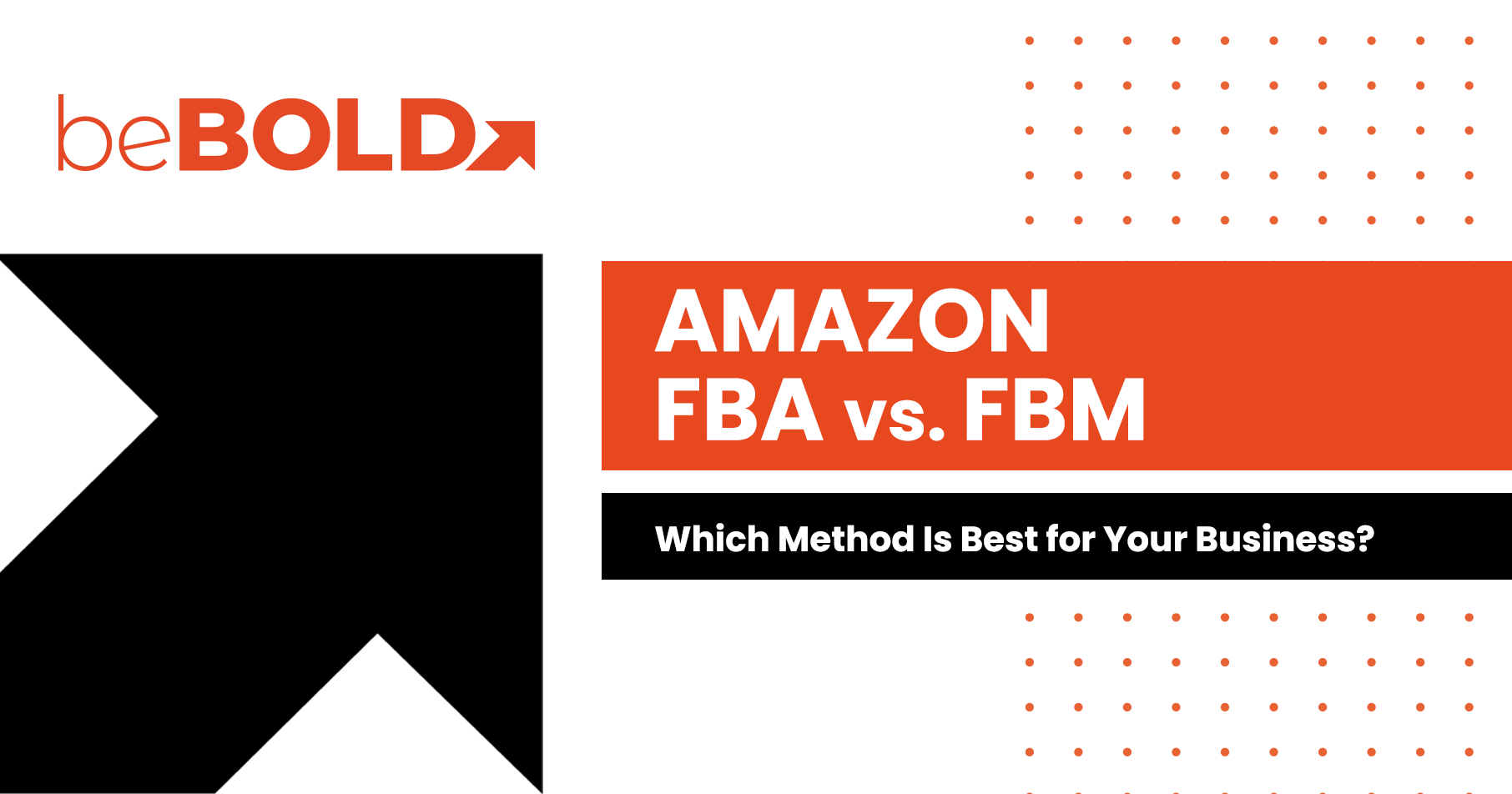 Nov 05, 2023
Amazon FBA vs. FBM: Which Method Is Best for Your Business?
Read more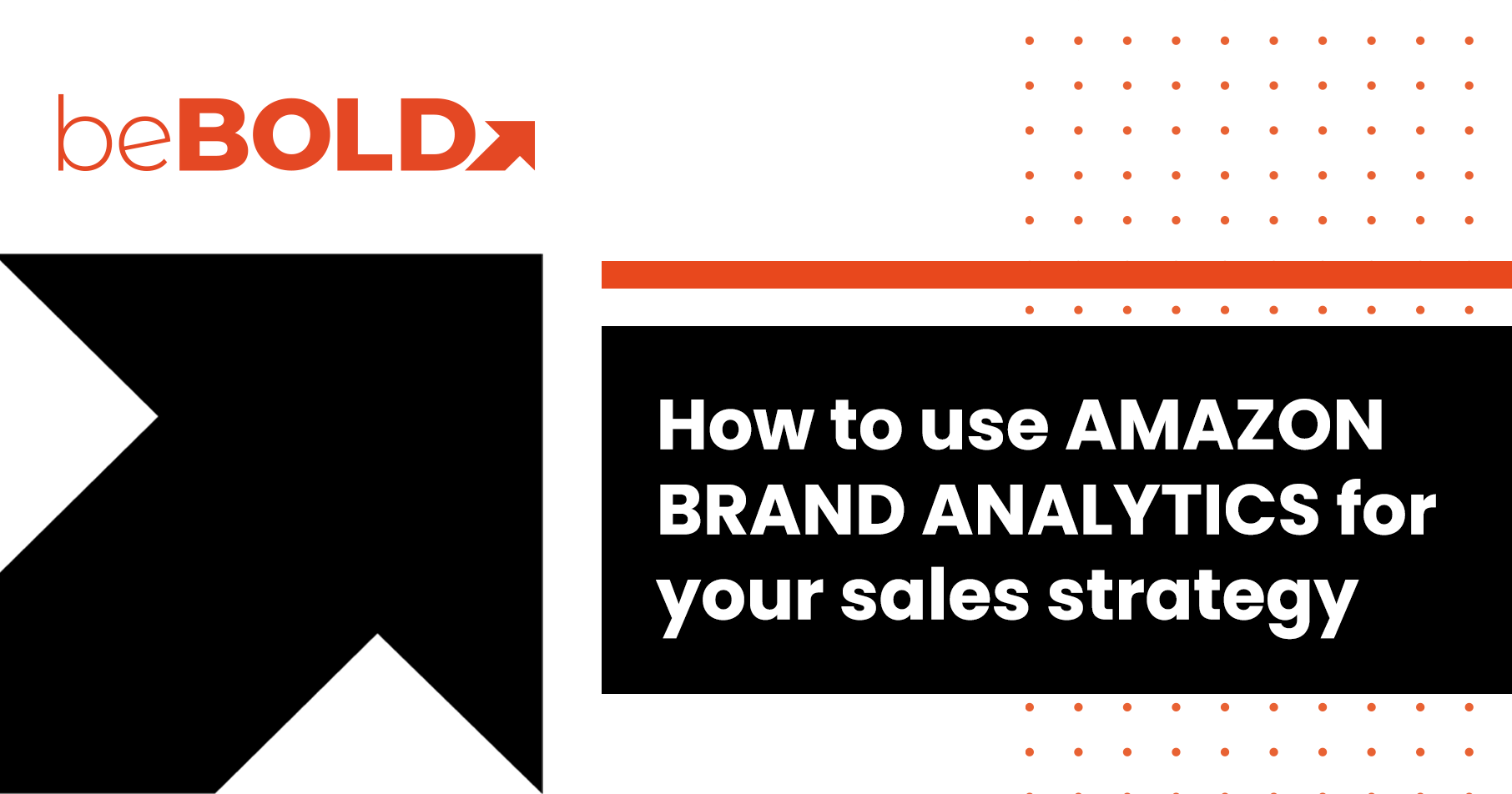 Nov 03, 2023
How to Use Amazon Brand Analytics for Your Sales Strategy
Read more
Oct 18, 2023
Boost Your Amazon Brand Store with Brand Store Quality Score Report
Read more
Ready to grow your Amazon and Walmart business?
Leveraging Amazon's Ecommerce Powerhouse with beBOLD, Your Premier Full-Service Amazon Agency in 2023
In the modern digital age, the eCommerce platform that stands as an unrivaled giant is Amazon. It offers an expansive e commerce platform that enables businesses to connect with an international consumer base. Yet, amid the hustle and bustle of the teeming Amazon marketplace, setting your e commerce business and brand apart from other marketplaces can be an enormous challenge. This is where the role of a competent full-service Amazon agency such as beBOLD becomes pivotal.
An Amazon agency like beBOLD offers much more than simple optimization of your performance on the e commerce platform. They equip you with the necessary tools and strategies to excel sales grow and maintain a competitive edge in an ever-changing eCommerce environment.
What Does an Amazon Full Service Agency Do?
A full service agency delivers an array of services designed to boost the Amazon business success many sellers on the Amazon platform. The services span from account management, product listing optimization, and Amazon SEO, to advertising, seller account management and beyond.
1. Product Listing Optimization:
An Amazon full service agency ensures that your product listings are well-structured, informative, and appealing to potential customers. This includes optimizing the title, bullet points right keywords, and product descriptions to maximize visibility and conversion rates.
2. Amazon SEO:
The top marketing agency will perform thorough keyword research and incorporate relevant keywords into your product listings, making it easier for customers to find your products when searching on Amazon.
3. Image Creation:
High-quality images are essential for attracting customers and showcasing your products effectively. A full service agency will create professional photographs and edit them to meet Amazon's image requirements, ensuring that your listings and products stand- out.
4. A+ Content Creation:
Enhanced Brand Content (EBC) or A+ Content is a feature that allows sellers to create visually rich product pages video ads. The agency will design and develop compelling A+ Content that highlights your product launches or brand's unique selling points and increases the likelihood of customers making a purchase.
5. Advertising Management:
Amazon marketing agency that will manage and optimize your Amazon Advertising campaigns, including Sponsored Products, Sponsored Brands, and Sponsored Display ads. They will develop a data-driven strategy to maximize the return on investment (ROI) of your advertising spend.
6. Amazon DSP Advertising Management:
An Amazon marketing agency also specializes in managing the Amazon Demand Side Platform (DSP) ad spend for your business. This involves creating targeted and data-driven programmatic advertising campaigns to reach the right audience at the right time, increasing brand awareness, and driving sales. The same marketing agency will also monitor and optimize these campaigns to ensure the most efficient use of your advertising budget, delivering the results for your business grow your brand.
7. Brand Store Creation:
The agency will design, build, and manage your Amazon Brand Store, which serves as a customized storefront for your products. This allows you to display advertising, showcase your brand's story, promote your product range, and create a seamless shopping experience for customers.
8. Inventory Management:
A full-service agency will oversee your inventory management, ensuring that your stock levels are optimized and maintained to prevent stockouts or overstocking. They will analyze sales data, predict demand, and guide you in making informed decisions regarding inventory replenishment and storage, ultimately helping you reduce storage costs and improve customer satisfaction.
9. Additional Amazon Sellers and Vendor Services:
Besides the core services mentioned above, a full-service agency may also offer your Amazon business other services such strong Amazon marketing strategy, customer service management and external traffic management to help your business navigate the complexities of the Amazon marketplace and achieve long-term success.
Working hand in hand with clients, the agency assists in unraveling the complexities of the Amazon marketplace. Its mission is to enhance sales velocity while ensuring sustained profitability.
Therefore, a full-service Amazon agency like beBOLD can be instrumental in catalyzing your business growth by optimizing your product or service agency for listings, augmenting your brand with own search results and rankings, and crafting compelling advertisements.
Furthermore, they manage your inventory and provide guidance, specifically tailored to your needs. They capitalize on their proficiency in the Amazon ecosystem to stimulate more sales, amplify visibility, and optimize your brand stores overall performance.
Is Investing in an Amazon Agency Worth It?
Hiring an Amazon agency can prove to be a valuable decision for many businesses, aspiring to broaden their presence and multiply their sales on the platform. An experienced agency can help you conserve time and resources, steer clear of common pitfalls, and maximize your potential for growth. It is a consideration that holds immense worth for various businesses.
Advantages of Opting for beBOLD, A Full-Service Amazon Agency
Amazon's complex ecosystem can be a hard nut to crack for novices, and keeping up with its ever-evolving trends can be a demanding task, even for experienced sellers. This is where full service agencies beBOLD can bring about a significant shift.
With services spanning from account setup, product listing, consultation to advertising, beBOLD can simplify your Amazon journey.
Incorporating the diverse requirements of both domestic and international clients, beBOLD delivers a host of services, such as listing optimization, sponsored products, sponsored ads, headline search ads digital marketing, and more.
By managing the complexities of the Amazon marketplace, beBOLD enables you to concentrate on your primary business operations, thus ensuring a smooth Amazon experience.
Strategizing Success with beBOLD
Stamping your brand and mark on Amazon requires more than just listing your products. A potent strategy is what gives your business an edge. beBOLD shines in this aspect by creating effective and customized digital marketing strategies tailored to your business's unique needs.
beBOLD's team delves deep into understanding your business, objectives, target audience, and products. This in-depth understanding shapes an Amazon strategy that is in sync with your broader business goals comprehensive strategy. Our agency also assists with keyword research search engine optimization, competitor analysis digital marketing, and more, ensuring your product listings attract maximum visibility.
Enhancing Reach with beBOLD
While an excellent strategy forms the starting point for business and for online marketing, the real challenge lies in expanding your business' reach to maximize sales. beBOLD stands out in this domain by offering expert services and unparalleled expertise. They assist businesses in penetrating diverse markets with their Amazon International Expansion service.
Amazon International Expansion with beBOLD helps businesses extend their customer base globally. It addresses the complexities of international selling, such as language translation, cultural adaptation, tax issues, and more, ensuring your journey to global selling is smooth and efficient.
Choosing beBOLD: Your Ideal Amazon Agency
With a plethora of full service agencies out there, choosing one that aligns with your business needs is crucial. This is where beBOLD's comprehensive and holistic approach to full service marketing agency really shines, making it your perfect choice.
FAQs About Amazon Agencies
What does a Full Service Amazon Agency do?

An Amazon agency manages your entire Amazon account, including fulfillment, inventory management, customer service, and Amazon PPC management.

How much does a Full Service Amazon Agency charge?

The pricing varies greatly, ranging from $500 to $25,000/month or performance-based pricing, where the agency receives a percentage of your sales.

How do I choose the right Amazon Agency for my business?

Look for an agency with a proven track record, in-depth knowledge of the Amazon platform, and experience in your specific industry or product category. Consider their range of services, communication style, pricing structure, and client testimonials to make an informed choice.

Does a Amazon Agency manage Seller or Vendor accounts?

Yes, a full-service agency works with both Amazon Seller and Amazon Vendor accounts. Amazon marketing agencies usually only manage Amazon advertising and DSP.
Why Choose beBOLD's Full-Service Management?
The Amazon marketplace is more competitive than ever, and to carve a niche, you need more than small team or to sell just a product. You need a full-service Amazon agency like beBOLD to guide you through the complexities, develop a winning strategy, expand your reach, and drive sales.
Whether you're a newbie or an experienced seller, beBOLD's comprehensive services can offer the support and direction your business needs. By partnering with beBOLD, you can unlock the immense growth potential that an e commerce site on Amazon offers and propel your business to newer heights.
Remember, achieving success on Amazon is not about outperforming your competition, but outsmarting them. With beBOLD, your full-service Amazon agency, you can confidently navigate the dynamic Amazon marketplace and unlock unprecedented success. Take the bold step today and invest in a full-service Amazon agency that truly understands your needs.