What are Amazon Ads?
Amazon Ads are a form of paid advertising that allows brands and businesses to promote their products on the Amazon marketplace. Through Amazon Advertising, businesses can create Sponsored Product ads, Sponsored Brand ads, and Product Display Ads that target shoppers who are likely to be interested in what they're selling.
Using Amazon Marketing Services to launch search ads can help generate traffic to your product detail pages, a custom landing page or your Amazon store. This traffic from relevant keywords can help boost your sales history in search results.
Amazon advertising allows you to use headline search ads, sponsored product ads, and product display ads to pick the digital shelf that your own products will appear on.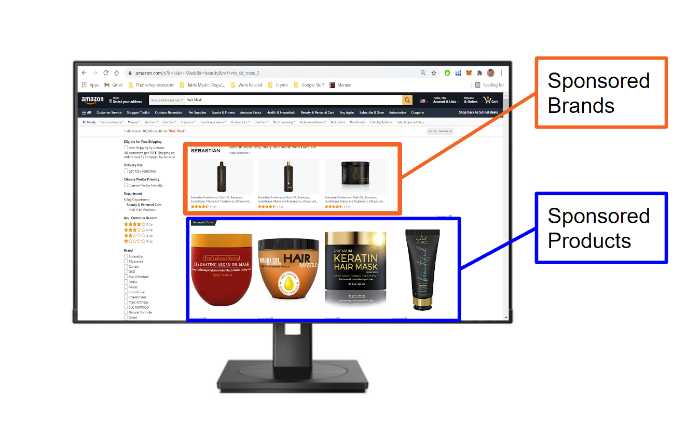 Top 5 Reasons to Advertise on Amazon
Amazon Ads are an efficient way to reach out to a large, engaged audience.
Amazon Ads allow businesses to specifically target shoppers who are likely to be interested in their products.
Amazon Ads are an affordable way to promote products on the Amazon marketplace.
Amazon Ads provide businesses with immediate feedback on how their ads are performing.
Amazon Ads offer businesses the ability to create customized ads that accurately reflect their brand and products.
How Does Amazon Advertising Work?
Amazon Advertising works by allowing brands to create ad campaigns that target customers who are searching for products like theirs on Amazon.com.
Brands can choose the best performing keywords or products and use search ads to appear in search results or on product detail pages where they otherwise might not show. Amazon advertising uses an auction based pricing model to help brands achieve more sales.
Ad types like Amazon sponsored product ads and sponsored brands ads (otherwise known as headline search ads) promote keyword targeted ads to show a brands products in search results and link back to product detail pages or a brand store.
A brand selects budgets, bids, keywords, and products and launches campaigns that can stimulate traffic to a product detail page or custom brand landing page.
How Do I get Started With Amazon Ads?
Getting started with Amazon Advertising is easy! Opening the campaign manager from your seller central or vendor central account will bring you to the Amazon ads dashboard. From here you can view traffic analytics, launch several different ad types, access your brand stores.
We typically recommend starting your ad strategy out with automatic campaigns then moving onto manual campaigns once you have harvested enough positive and negative keywords. But if you are a little green to the platform, an agency like beBold Digital can help guide you through this process.
Why Use Amazon Ads?
There are a few key reasons why you might want to use Amazon Ads to promote your products. First, Amazon is one of the largest ecommerce platforms in the world, with millions of shoppers turning to the site every day to find what they need. This gives you a huge potential audience for your ads.
Second, Amazon Ads can be very effective in driving sales. When done correctly, sponsored brand campaigns will drive new consumer acquisition and use custom ads to cross sell. Sponsored products ads will increase your search visibility on search results. And Amazon product display ads will sell more products
Amazon ads are an effective way to drive sales and grow your business on the Amazon marketplace. By targeting relevant keywords and using ad types that align with your marketing goals, you can create campaigns that generate traffic and sales.
Should I advertise on Amazon?
This is a pretty easy question to answer. Is your product on Amazon? If you sell products on Amazon, search ads will help generate more sales and keep you from losing organic rankings to your competitors.
If you don't feel like you have the sales level to be advertising yet, advertising might be the only thing that will get you to that sales level. Working with an Agency like beBold Digital can help keep your advertising cost low while using pay per click ads to engage with potential customers.
Amazon Advertising Strategy
Your strategy with Amazon Advertising needs to be driven by your goals. Amazon advertising can be cost effective, and drive toward profitability goals. It can increase your product visibility and drive market share goals. Or Amazon Advertising can help increase sales.
No matter what your goals are, we typically break our Amazon digital marketing strategy down into three sections. Product line, targeting type, and ad type.
Breaking apart your ads by product line means that the keywords in your campaigns will be focused specifically on the products that are in those campaigns. This will help keep your average cost per click low, as well as driving a lower advertising cost in general. Use Amazon's reporting tool to pull search term reports and find out how consumer categorize your products.
We then sort our campaigns by targeting. Branded targeting will have keywords that contain your brand name. Competitive targeting will contain competitive brand names. Category targeting will contain general terms without any brand names. And auto campaigns can be run for harvesting new opportunities.
Separating campaigns by ad type is a requirement of the Amazon advertising ecosystem. Sponsored brand campaigns can be used to drive consumers to your brand store with a product collection and a bit of ad copy. Once in your brand store, consumers will have the ability to browse multiple products so having descriptive titles and high quality images is important. Sponsored products campaigns will drive directly to your customized product page so again having accurate and descriptive titles, as well as solid reviews on your customer review pages will make a big difference. Lastly, Display ads appear on product detail pages and can be used to protect the branded space or encourage conquesting from competitors.
How to Optimize Your Amazon Advertising
There is no cookie-cutter approach here. Your goals, ASIN list, content, and past performance play a huge role in determining next steps. An Agency like beBold can help you optimize toward your goals.
Otherwise, adjust bids and budgets until you find what works. Also, try to focus on exact match keywords wherever possible.
Amazon Advertising - Frequently Asked Questions
What are the 3 types of
Amazon PPC
ads?
Sponsored brand ads, display ads, and sponsored products are the three types of ads on Amazon. Sponsored brands ads also breaks down further into video ads, or ads with a custom ads image.
What is Amazon PPC cost?
Amazon Pay Per Click is a bidding structure used to determine who pays what and when while showing ads on Amazon. It's a system in which an advertiser only pays when a consumer clicks on their ad and uses a cost-per-click model.
Why is Amazon PPC important?
Amazon advertising allows you to pick your digital shelf and show ads that appear as native ads, video ads, or display ads. These pay-per-click ads allow an advertiser to stimulate sales in places where they may not be able to gain traction organically.
Is it worth it to Advertise on Amazon?
Yes. Shoppers click on the first several results on search pages more than any other placements. Most of the time those placements are sponsored brands ads, video ads, sponsored product display ads, or any number of different ad formats. Between Amazon's reporting tool, the increased sales, and the ability to constantly adjust, Amazon Advertising is a great tool for anyone selling on Amazon.
Conclusion
If you are either currently advertising (including DSP) or looking to start advertising your products on Amazon, beBOLD can help with Amazon ad management. We offer a free analysis of your current Amazon Ads so that we can provide tailored recommendations for how you could improve your marketing strategy. Contact us today to get started!